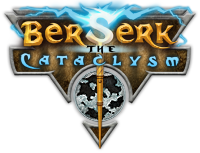 Welcome to the Berserk: The Cataclysm Wiki
Edit
Berserk: The Cataclysm is a free-to-play, strategy collectible card game set in a fantasy world.
The world of Laar, a once prosperous land that is now covered in ashes after a cataclysm caused by powerful magic. The darkness whelmed its lands and birthed terrible beasts and monsters. Trying to protect themselves from the dark creatures, the mightiest wizards established the flying islands, rising parts of land in the sky. Now they are battling with each other for resources and living space.
Players enter this world as a powerful wizard and master of their own sky-island castle. They battle to expand their dominion and conquer new islands. There are several battlefields - defeating barbarians or other players to protect the dominion, seizing other players' lands, and competing with friends. Players can customize their towers with interior items and war trophies, invite friends to demonstrate the achievements.
To fight, players can hire creatures of five elements – Forest, Mountains, Great Plains, Swamp and Eternal Darkness. There are also Neutrals, who do not belong to any particular element. Each element gives its warriors special powers, which creates diverse, intense and unpredictable gameplay.
Key game features:
Edit
• Global strategy elements - conquer other players' lands , construct an island from their conquered pieces and protect allies from enemies.
• Six types of PvP and PvE battles: campaigns, other players' lands conquest, player vs. random player, player vs. friend, player vs. barbarians, player vs. bots.
• Asynchronous PvP: players battle even when one is away from the game.
• 600 unique collectible cards illustrated by prominent global artists.
In this wiki you can find the following sections:
Community content is available under
CC-BY-SA
unless otherwise noted.